Tips & Tricks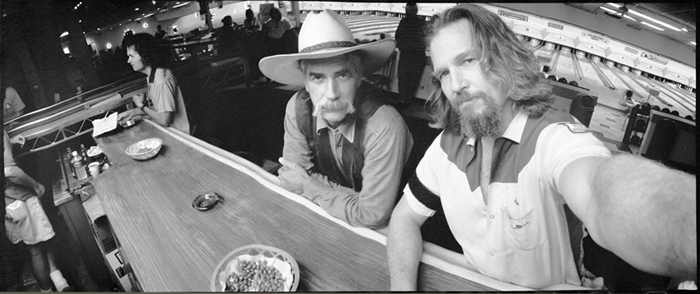 Jeff Bridges: Actor, musician, producer and Photographer
1x Blog-Tips & Tricks
' .
by Editor Vicente Dolz

Jeff Bridges is an actor, musician, producer and photographer. He is also the National Spokesperson for Share Our Strengths No Kid Hungry Campaign.
Born in Los Angeles in 1949 into a family of actors—Jeff began his acting career as a youth on the television show—Sea Hunt with his father Lloyd Bridges (1958-1960)
Jeff is one of Hollywood's most successful actor's and a seven-time Academy Award nominee. He garnered his first Oscar for Best Performance by an Actor in a leading role for his performance in Crazy Heart in 2010. In addition to acting in over 70 motion pictures, he is also a musician and tours with his band The Abiders. Jeff has released several albums including a spoken word album titled, Sleeping Tapes.
He just released his second Photography book: Jeff Bridges: Pictures Volume Two in October of 2019. A follow up book to Pictures: Volume 1, with all proceeds benefiting the Motion Picture Television Fund.
Jeff has been taking photographs since the 60's. In the 1970's Jeff began using a unique Widelux camera which takes panoramic 35 mm images in black and white film. He has used this camera to take pictures on set while working—showing the unique world behind the scenes of making movies.
Today we're going to get to know more about Jeff's photographic work.
Jeff, first of all, thank you for dedicating some of your time to this interview.
It's a pleasure getting to know more about your work as a photographer.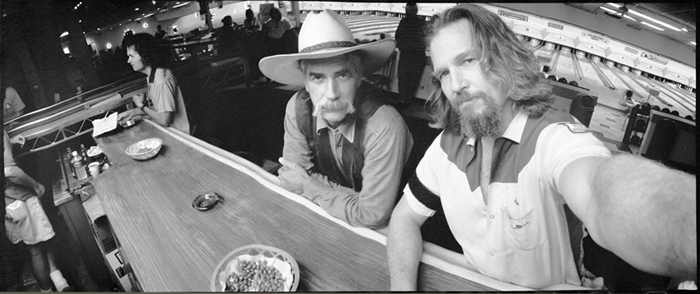 The Stranger andThe Dude, The Big Lebowski


When did you start taking photos?
When I was a teenager in high school.
Have you ever had your own lab? Did you develop photos on your own?
Yes, when I was a teenager in high school, I set up a darkroom in my bathroom and I borrowed my father's Nikon and got an enlarger and all that stuff. I did quite a bit of developing. Later, I moved to a larger studio and I got very fond of the darkroom. I loved the darkroom.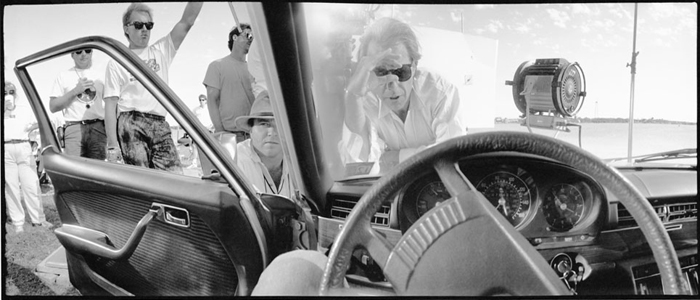 Peter Bogdanovich Lining Up a Shot, Texasville © 1990 Jeff Bridges

Can we say that Starman was the beginning of your photo career?
No, I don't know about career...that sounds more like you're selling stuff. I don't know—I started photography in high school and ever since then I've been interested. Starman is the first film where I started making my little books, books of photographs that I've taken with my Widelux camera. I give them out now as gifts for the cast and crew on the movies that I work on. I suggest you also look at the introduction to my photobook. It will give you more in depth answers to some of your questions. It's called Jeff Bridges: Pictures vol 1.
We had the opportunity to exhibit some of your photographs here in Valencia (Spain) —in two different locations at the same time. We notice that people look at your photographs for a long time with a certain curiosity.
How is it possible that so many actors agree to be photographed?
Well, you know, I'm pretty sensitive being an actor myself. So, when it's not appropriate to take a picture, I don't, I try to avoid that. I don't get too many people complaining.
With most Actors and Directors—it's all about playing with each other—you know, there's a lot of that going on. Taking photographs also provides great memories for the friends and colleagues I make along the way. I have the little books to share afterwards.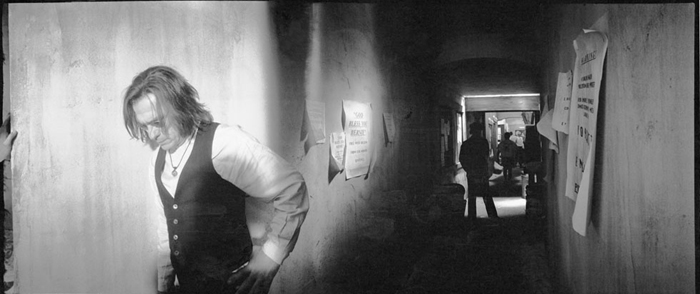 Tommy Lee Jones, Blown Away © 1994 Jeff Bridges

Lots of your pictures are taken on movie sets with complex lighting situations. Is it difficult to manage the illumination and the focusing in such a complex camera under these circumstances?
No, the illumination is wonderful because on a movie set, the lighting is always so dramatic and unexpected, so you can use that. And focusing with my camera—there is no focus on the Widelux. You have to focus with depth of field. So, I shoot with high speed film . . . 3200ASA or sometimes I push it to 6400ASA because I like to get close to my subjects and I like to shoot f/11 for the depth of field bringing it into focus. I don't use this camera too much for landscapes. I like to get close to the subject. I would suggest you read Me and My Widelux from Jeff Bridges - Pictures Volume Two, it would explain a lot.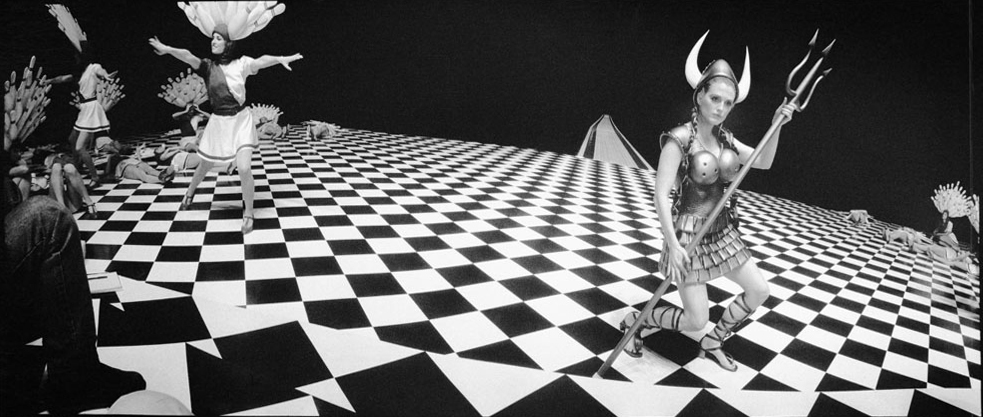 Julianne Moore, Valkyrie, The Big Lebowski © 1998 Jeff Bridges

Why do you use black and white film?
Well, I'm used to black and white film. And I like it. It asks the mind to fill in the colors. I like a lot of black and white in movies. You know, Kubrick's movies have deep rich blacks like Dr. Strange Love. There are so many great black and white films where the blacks are so rich. I love that. And that's what I'm used to - it's what I started shooting with and it's my groove.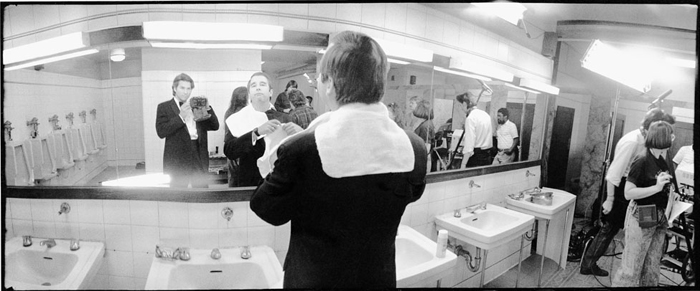 Jeff and Beau Bridges, The Fabulous Baker Boys, 1989


What about the digital world? Are you interested in the super automatic cameras with lots of megapixels?
Well, I take pictures with my phone and stuff, but I'm not too interested.
Do you take photographs outside of the movies you're working on?
Yes, but rarely. Most of my photography happens when I'm working. But, I do family photographs and so forth.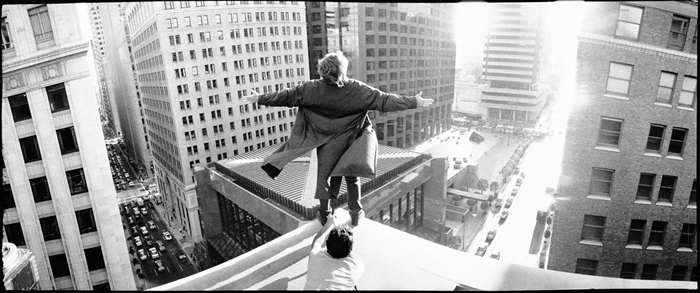 Gil Combs, Fearless © 1993 Jeff Bridges


How did you get the idea to use the panoramic format to photograph people?
Well, I'm a big fan of Jacques-Henri Lartigue, who used a panoramic camera at some point. And at my wedding there was somebody who. . . actually even before that . . . in high school . . . there was a rumor going around about this guy with a funny camera. He was taking a class picture and if you ran around quickly enough you could be in the picture twice. And he was right about that! That intrigued me and I finally got one of those cameras.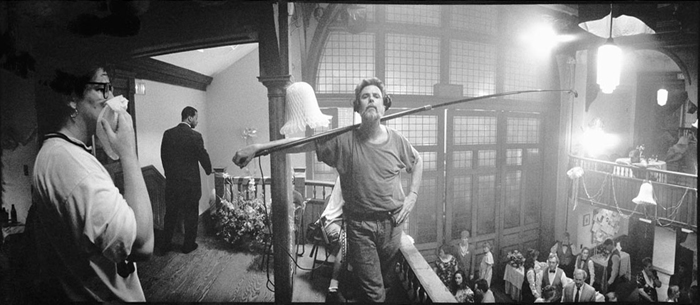 Stephen Hopkins and Joe Brennan, Director and Boom Operator, Blown Awaypictures © 1994 Jeff Bridges


You have two photography books of your photographic images, most recently "Jeff Bridges: Pictures Volume Two" released in October of 2019. Tell us about it.
I worked on both of my photography books with the same book designer, Jana Anderson. She designed a beautiful book and Dual Graphics did an incredible job printing it. I'm super happy with the way it turned out.
Pictures Volume 2 contains images from the last 25 films I've been a part of. Wow, how time goes by so quickly.
How do you take the pictures where the same person appears on one side and then the other side of the picture frame?
You have to coordinate with the subject. I shoot these photos at 1/15 of a second. With the Widelux—you can hand hold the camera and still get a pretty clear image. The lens moves very slowly . . . about this speed . . . (Jeff makes tsssss sound for approx 1/15 of a second!). That's how much time you have to work with the subject to create that effect.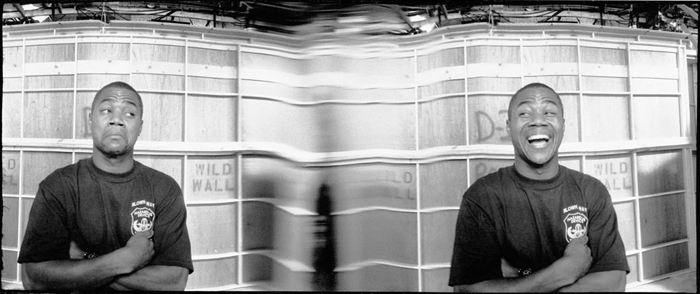 Cuba Gooding Jr., Tragoedia Comoedia, Blown Away © 1994 Jeff Bridges


I want to take this opportunity to congratulate you on your photography.
You are so welcome. I appreciate you Vicente for all you've done for my photographs. It's been wonderful having them on exhibitions in Europe . . . and I hope to meet you one day. See you soon. Bye Bye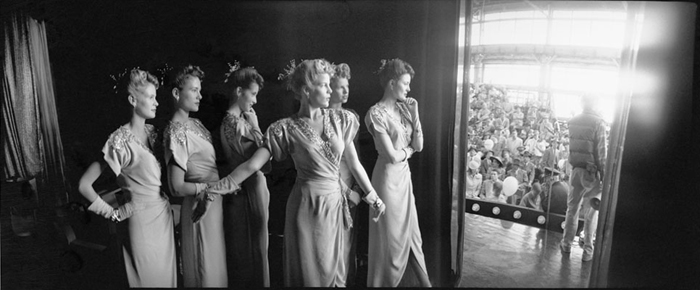 The Tuckerettes in the Wings, Tucker © 1988 Jeff Bridges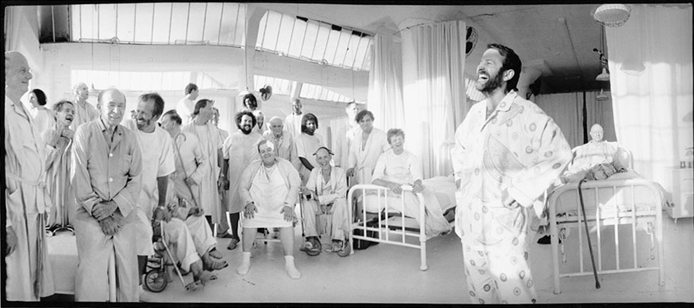 Robin Williams Riffing, The Fisher King © 1991 Jeff Bridges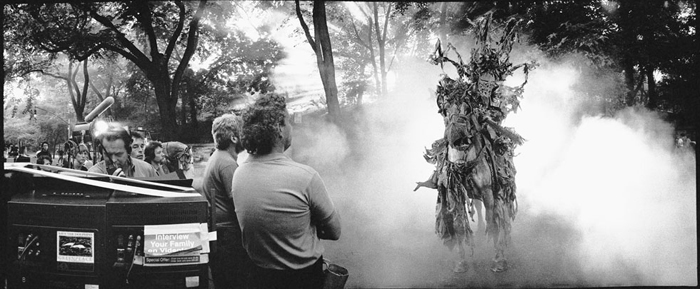 The Red Knight, The Fisher King © 1991 Jeff Bridges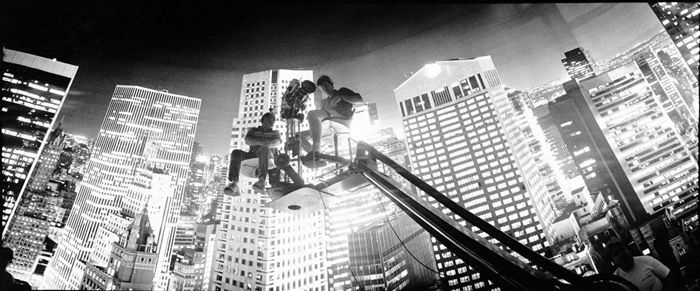 Fake New York Skyline, The Fisher King © 1991 Jeff Bridgespictures

Hope to see you in Valencia someday. Thanks for the interview, Jeff.

Vicente Dolz
. '