Photographers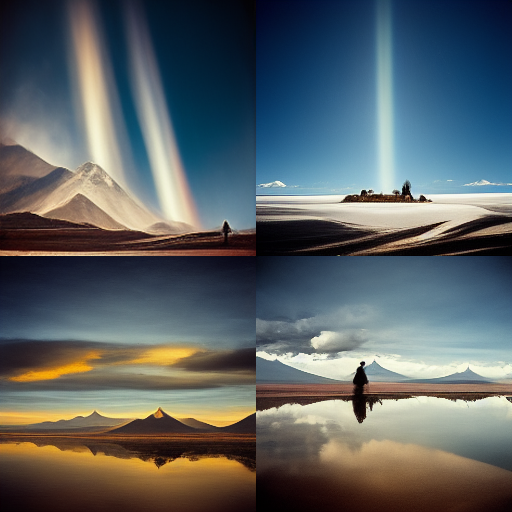 Artificial Intelligence 2
The Art of Adventure - Bruce Percy
Yesterday I wrote about the AI program MidJourney generating images based upon the criteria 'Bruce Percy Photography'.

I thought I would show some more, which were created by the criteria 'Bruce Percy Photography Bolivia'.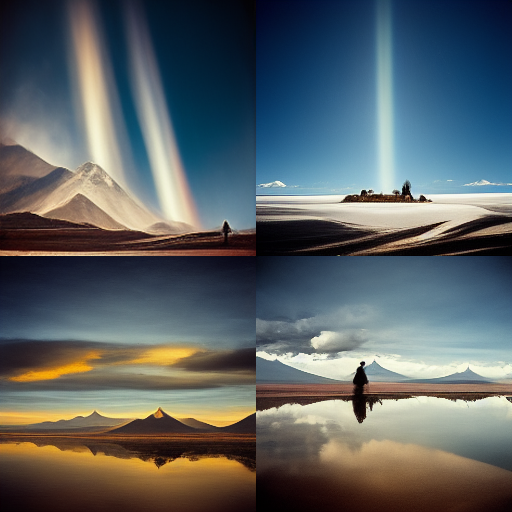 I can definitely see elements of some of the places I have visited in Bolivia. The top left image in particular reminds me a lot of the mountains near the Dalí desert.
Tonight I've been thinking that this all reminds me of something. And I've just realised it reminds me of when HDR came out. Many thought it would be a fad. As much as I know that HDR work can be subtle, masterful, and invisible in the final image when in the hands of a skilled operator, it can also be extremely gaudy (to my tastes at least anyway) when used with much less regard for restraint and taste. Regardless of whether I approve or not, HDR is here to stay.
And so with the AI generated images from Midjourney, I think we are seeing the birth of something new here. There will be those that use AI image generation with sophistication, and those that don't. We now live in a world where anyone can publish, and I often feel I have to curate what I spend my time looking at. There is an awful lot of derivative work out there, and to find the jewels of work that are being published, one has to work harder to find them.
So for me, as much as I'm fascinated by this new advancement in AI, perhaps more from a sociological perspective (jobs are going to be lost and also won, because this is a massive paradigm shift we are on the cusp of), I don't see the algorithms at present giving you an option for the level of taste in the work. When I went onto MidJourney to look at other work, everything had a similar kind of saccharine look to it.
But I must warn that this is only temporary. If you are not up to speed on AI and where it is headed, then I can recommend this article on the Wait but Why website. In it, the writer explains that progress and developments in AI are exponential. The Google scientist Ray Kursweil has said that progress is always exponential, but we humans tend to project into the future in a linear fashion. It is a human failing. We tend to assume that what has happened before is an indication of what will happen in the future. If the first year we learn 10%, we assume the second year will be a further 10%. But the truth is, that 10% you've learned, contributes towards you learning 30% the second year. And so on. Progress is exponential.
One has to move with the times, because if you don't, you'll be left behind. I am curious to know whether 'real art' generated by 'real people' will have a reverence over AI generate work, or whether folks simply won't care. I don't think they will be able to notice the difference, but that is another matter entirely. Because we still discuss the merits of different cameras, and yet I doubt if anyone could look at most photos and confidently claim to know which camera they were made with. My own belief is that when it comes down to the bottom line, convenience always wins. So AI will win over work that has been created by a human.
Where does that leave us in the future? Artist have seldom made money from their art, unless they are extremely lucky. Same for musicians. And book writers, only if they have a best selling book. But what if AI can generate a JK Rowling like sequel, and it does it in a matter of seconds, as opposed to JK Rowling writing a book for 2 years? There is no contest.
I digress perhaps. But I must stress that I am not warning of the perils of AI, or even saying I don't like it. I am just curious how it is going to affect us. Because rather than us shape it, it will shape us.